Focara of Novoli 2013
Posted on 15 Dec, 2012 in Eventi e manifestazioni, News | 4 comments
Swipe time and here we come to the new season of «Focare» of the 2012-2013.
Last year, the approach of the Christmas and new year, I decided to publish a long article about poetry 'A fòcara Michele bread with verses, the Italian translation and research on the anthropological significance of rites and traditions.
To find that article, to read it and to take an interest in our traditions was a pugliese di Novoli resident in Turin, Sally Teifreto, with which then was born a match that lasts.
Sally is a passionate lover of traditions of Salento and in particular of the great focara Novoli, the largest fire in the Mediterranean ritual that goes on every year in the pugliese town on the occasion of the feast of Sant'Antonio Abate 17 gennaio. For the edition of 2013 There will be involvement of the Turin artist Ugo Nespolo, which will offer its reinterpretation of the monumental mountain of vines that will catch fire
The event is organized in great and attracts visitors from all over for the spectacle of the enormous focara and all accompanying events. What follows is the page of the official website of focara Novoli that has an interesting movie about the show you go to organize:
This year Ersilio me an invitation to meet in Novoli in occasion of focara ignition on 16 gennaio: It would be a nice event to see and the opportunity to meet in person a friend who showed to appreciate what we do to enhance our great poet.
Unfortunately I don't think I will be able to, but until the last minute you can always… dream.
Thanks Sally, wishes for the focara and for the Christmas holidays to you, your family and friends of Novoli.
Update del 13 gennaio 2013
Yesterday I received an email from Ersilio that attached contains the complete programme of Focara 2013 and even two of his writings.
I think he might like to see on this page all three contributions.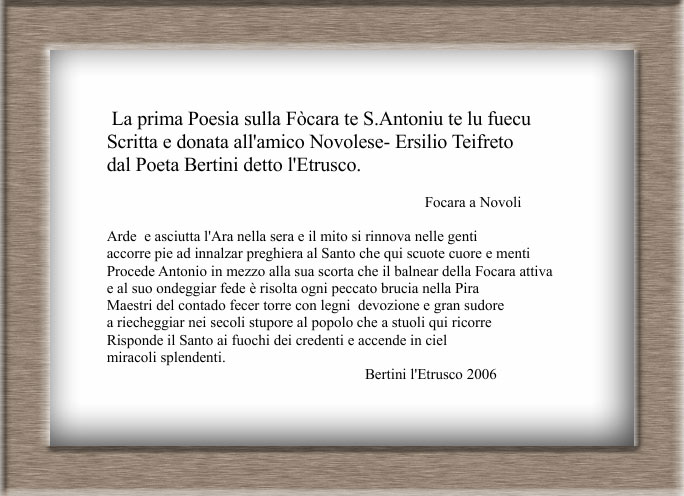 4 comments
Following the report of caro amico Ersilio, I became aware of "Focara", thing that intrigued me a lot.
I hope one day to be able to see live the celebration , the direct ignition of Focara.

Congratulations for the initiative collecting interest
Marcello .

Interesting! I hope one day you can go and see this in Novoli bonfire, probably the largest in the world.
A greeting to all.
Salvatore Salamone

Sally Teifreto

On behalf of all thank friend Giuseppe Novolesi, wonderful article on author Focara load of sympathy, for the nice words that I wrote and the enthusiasm expressed towards our traditions.

For many years, the FòcarArte event is open to artists, painters, to music, Poets etc…. crossing the boundaries to become intangible heritage of humanity.

Professor Giuseppe Musolino presented "Michele Pane. The Life", the biography of one of the greatest poets of Calabria, the book tells stories and traditions from Calabria, and the theme of emigration to which all history is connected.

Michele Pane (Decollatura CZ 1876 – Chicago 1953); with this area of Calabria have a shared tradition "Good fire". The poet wrote the famous poem "In focara" published on the book "Violets and nettles in 1906″.

Professor Joseph on site http://www.michelepane.it explains the etymology of the term "Focara".

Greetings and best wishes for a Merry Christmas and a happy new year to you and family and friends of Calabria.

( leave a comment)

Kevin Castles

The premise of not owning your knowledge nor do your culture on the subject, looking at the fócara I warms my heart as I think you and all who have the good fortune to participate. I wanted to thank you to pursue with commitment and passion what otherwise would be lost, because just knowing where we come from, we know where we want to be. It's a bit more pride now I greet and wish you a wonderful and peaceful Christmas … Kevin, Another Parton transplanted to Torino …
Lascia un commento
Your email address will not be published. Required fields are marked *
Name *
Email *
Website
Write the missing number: *
7 × = 7
Comment
You may use these HTML tags and attributes: